Sports and nicknames have always been inseparable. Much like Hugh Hefner and all his busty Playboy Bunnies. Since the NBA embraced nicknames like "The Big Dipper," "Houdini of the Hardwood," and "His Airness," thousands of other monikers have been made. But not every single one stuck to the mind of fans all over the globe. Worse, there are players who give themselves nicknames. That's a mortal sin in the art of nickname-giving. Luckily, there are several current players who own cool nicknames.

10. THE DEFINITION – MARTELL WEBSTER
This could have been on the upper half of the list if not for the player who owns it: Martell Webster. He was given the nickname obviously because of his last name. Webster is a popular dictionary and dictionary has definitions. Ergo, "The Definition." This is more appropriate for a superstar like Kobe Bryant or LeBron James because they really define the game. Still, it sounds really badass and we can't ignore that.
9. J-SMOOVE – JOSH SMITH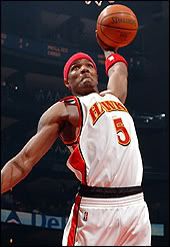 The cheesy integration of the words "smooth" and "move" might throw you off a bit, but when you see how Josh Smith plays, you'll be 100% convinced. He's the George Gervin 2.0. The way he glides in the air before throwing off a thunderous dunk is simply marvelous. The way he stalks before rejecting a breakaway lay-up is just so jaw-dropping. Smith's moves are smoother than Michael Jackson's silk panties!
8. THE BLACK JESUS – AMARE STOUDEMIRE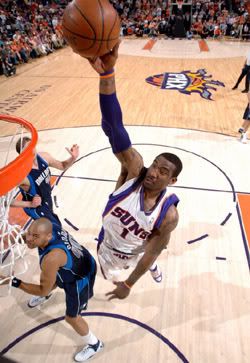 Beware sinners! It's the "Black Jesus!" The nickname is straight out from an And-1 Mix Tape. The Black Jesus gives off a you-don't-want-to-mess-with-me-or-else-I'll-spite-you vibe. Maybe Amare Stoudemire really has Jesus' powers because it is a miracle how he survived two knee surgeries and play as if he has the springs of a high school player. Let's see if he can continue his Messianic skills and become the Suns' playoff savior.
7. THE STRAITJACKET – RON ARTEST
This sounds funny when it first reverberates in your ear. But if you think about it, it perfectly describes how Ron Artest plays defense—like a straitjacket! You can't really move freely when he is guarding you with his wide body and strong physique. But then again, it can also work against the Sacramento Kings veteran. "The Straitjacket" also fits him because of his mental-institution-worthy moments on and off the court.
6. THE MATRIX – SHAWN MARION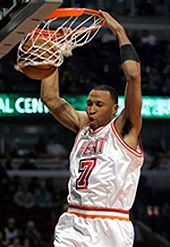 This nickname never gets old even if the movie it was based on is already 3,104 years old. Shawn Marion was given this moniker because of the way he seemingly suspends time ala Neo with his high-wire-above-the-rim attacks. Marion needs to show next season though that he is still one of the NBA's elite. He still has the power to draw more people to watch the Heat—a clear opposite to Keanu Reeves and his box office flops.
5. THE BLADE – BRANDON ROY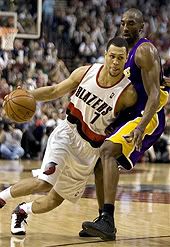 Forget Wesley Snipes. Forget those knifes you see on Home Shopping shows. The only blade you want to remember is Brandon Roy. The nickname was chosen among entries in a contest conducted by Slam Magazine and it truly is a winner. "The Blade" is apt for Roy's sharp and cutthroat game. This works on another level for the Portland Trailblazers in the sense that Roy is indeed the one cutting grass and blazing the trail for the team.
4. APOLLO 33 – JAMARIO MOON

Jamario Moon is the only rookie on this list. That says a lot about him because he was already given a bangin' nickname in just his first year in the NBA. The moniker clearly plays off his surname. The 70s moon buggy was named Apollo and the 33 was added to include his jersey number. His finesse and his amazing hang time will also remind you of men walking on the moon. A nickname never sounded so Grade 1 Science.
3. AK-47 – ANDREI KIRILENKO
What do you get when you add your initials and your jersey number? A cool nickname! Well, it helps if the sum is a rifle. A Russian rifle for a Russian player! This fits Andrei Kirilenko to a T with the way he fires statistical bullets across the board. The initials-jersey number formula doesn't work for anyone else but him. Did he deliberately choose number 47 and had an unbelievable foresight that someone will come up with "AK-47"?

2. THE TRUTH – PAUL PIERCE

Credit Shaquille O'Neal for this one. Paul Pierce's nickname is probably the most threatening in the NBA today. It's the alpha and the omega. The end-all and the be-all. It's infallible! Paul Pierce is the truth and you can't do anything about it. His consistent numbers throughout his 10-year career justify that his mad game is not a lie. No, I won't use the cliché-pun-intended "The Truth will set you free" line on this one.
1. AGENT ZERO – GILBERT ARENAS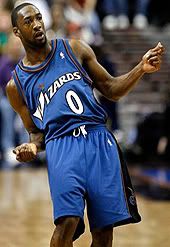 "Hibachi," "Black President," "Eastern Assassin," call him whatever you want, no other nickname stuck with Gilbert Arenas than "Agent Zero." This really is kickass since he really is the top agent of the Wizards. A good agent always finds ways to solve problems and always has the guts to take matters into his own hands. That's how Arenas plays. That's why he's "Agent Zero." Now, if he can only play like an All-Star again and not just be Agent Zero Impact.
ano bang mood ko?: solid
bumabayo sa tenga: boses ni Lia Cruz at Bobby Yan